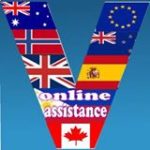 Reapplication of a Visa/Permit – Process Explains:
Step: 1
Every client(s) who wishes to be assisted in their refused application must e-mail a refusal letter, for Visa Online Assistance to determine what are those grounds which the visa officer or immigration officer  has arrived to their decision, as per criteria; and
Provide a brief explanation as to why the client(s) is not satisfied about it. Then, Visa Online Assistance will examine, review and analyze some points – in reaching the decision of the  visa officer or immigration officer , through seeing some information and evidentiary requirements, previously supplied by a client(s) in his/her first application; and

A client should secure a

confirmation

of getting the services of Visa Online Assistance, though settling a fee of

USD 850.00  or equivalent

  for the 

reapplication to a refused visa-permit 

to  Visa Online Assistance via

PayPal Payment ( external link for PayPal.me/Visa Online Assistance)

 , or pay via credit or debit card –

in case

, you do not have a PayPal account 

 or

Bank payment

– where, [ bank account details of  Visa Online Assistance ]will be providing, upon the agreement of getting its services, and issue an invoice or receipt electronically.
Step: 2
Visa Online Assistance, will make a notes or remarks, into their refused application. This will help a client to understand and comply with any additional evidentiary documents (apart from what (s) he has provided into his/her first instance of the application. These may not be an exhausted list as such, third party source of information, any significant outside information, and some substantial information or documents within his reapplication, according to his circumstances and criteria of the regulations; and
Visa Online Assistance, will make a customize  checklist according to his existing list of documents and any additional list of documents which a client must provide, assign by Visa Online Assistance and it will be sent to the client's e-mail address for compliance; and
Client(s) will acknowledge and confirm if some documents in the list or notes could be attainable or achievable OR NOT, in the event that the documents are not obtainable, the client must advice Visa Online Assistance. Thereafter, Visa Online Assistance will make an adjustment to the checklist and find other possible documents which will adduce the significant to meet the criteria of the regulations, though open coordination of the client(s).
 Step: 3
While, the client(s) is gathering the documents, Visa Online Assistance will draft a submission letter to the embassy, this would probably take couple of days to a week ( 5 pages or more) to raise your concerns about your refused application- in collaboration with the prevailing acts and  regulations and evidentiary requirements to support a claim;  and to challenge the  visa officer or mmigration officer

to consider you granting a visa-permit

, depending on the nature of refusal, circumstances of the applicant and any additional credible evidentiary documents to deem its claim meeting the criteria of the regulations and any specific visa instructions  or visa application guidelines, therein; and
Client(s) will start to e-mail in

PDF

or

JPEG

file format all the documents which will be presenting to the reapplication, for the Visa Online Assistance to recheck, review and put some comments if necessary – please note, those documents which were sent to step 1, need not to resent again, for saving time and effort! Not unless, there were changes or updates accordingly; and
Once, submission letter is finished, it will be e-mail to the client and further instructions will be given to him by Visa Online Assistance; and

Then client advices, as to when (s)he plans to resubmit his reapplication at the embassy.
What are you waiting for, call us now! For Whats App & Viber user, + 63 918 550 1018 or e
-mail us today at 
info@visaonlineassistance.com 
in the following format below  and let us work together to enhance and strengthen your reapplication and 
possible obtaining the approval

!
We have dealt with the approval of applications from
: Canada, New Zealand, Australia, Manila, Shri Lanka, Singapore, Nepal  Egypt, India, Mauritius , Pakistan, and continue to helping various nationalities in preparing and reviewing their application; from Fiji,  and South Africa among many other types of visa in Europe,Ireland (EU- Directive Family Member) , Spain and  Residence Permit (family ties) in Denmark– Schengen Visa  – France . We look forward to assisting you with your visa application.
 SUBJECT: Confirmation of Reapplication (Visa & Country )
attached  the following: proof of payment for PayPal  & a copy of refusal letter, PayPal Payment ( external link for PayPal.me/Visa Online
No consultation fee because everything is package with its services ( Except visa application fee as per embassy  fee)

No hidden charges

No need to travel to find an agency or agent

No need to spend additional time for the research online (acts and regulations) for your application or reapplication, we have them compiled FOR YOU– our senior legal researcher for immigration will do this for you!

Whether you are currently working, traveling or at home – we can help you!

All you need to do is to have  your documents (clear copy) scan in

PDF

or

JPEG

format

No sugar quoted assessment of your reapplication

No need to worry about your documents to us- especially your 'financial documents', as we always observe and keep its privacy and identity

Secure online payment to us  

No need to wait for 24 hours  or so.. to get a prompt response (less than an hour), you will get a respond