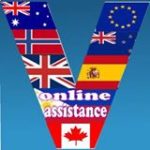 With Visa Online Assistance, our Immigration Specialist, and Visa Analyst  with 10 years sharing of an experience will   provide you  professional services  online, when after we receive a confirmation to getting our services. The consultation online via exchange of e-mails, Skype, Viber & WhatsApp, or telephonic consultation and for any other questions, review and assessment of your application , to respond  regarding  visa inquiry may only commence after we receive your payment, through the following mode of payment online (please see our indicative service  fee rate below). All the information and documents were treated confidential, for the clients to protect and keep its privacy data.
Our service indicative  fee  for the following: tourist visa USD, 200.00, fiance visa USD 750.0o, spouse/partner visa USD 850.00, student visa/permit USD4 50.00- 
OTHER SERVICES (specific)  in which client(s) may only need to have for : review and analysis of entire documents for  only  USD 300.00, study plan or SOP making only for USD 300.00 and consultation only USD  100.00.
For  the Reapplication of a Refused Visa/Permit, (click here, for our 3 steps process) . Our indicative service fee rate  may change depending on how unique or complex the applicant's individual circumstances in relation  to  the type of visa/ permit  (s)he is  inquiring or wanting to apply and number of application (person) included, in commencing a visa application assistance:  for a review, assessment, analysis in accordance  with the criteria of the acts  & and regulations in place for  reapplication.
Visa Online Assistance has helped clients from the U.S.A  Philippines, Srilanka, Singapore, Nepal  Egypt, South Africa. Uganda, India  Mauritius and Pakistan to name a few,  in reapplying and obtaining an approval of their refused application or first application be approved! We've assisted also clients from New Zealand for PR application approval, Australia for a temporary visa, among many other types of visa in Europe. Ireland (EU- Directive Family Member) , Spain and  Residence Permit (family ties) in Denmark– Schengen Visa  – France . We look forward to assisting you with your visa application.

 Acceptable online payment:
PayPal Payment ( external link for PayPal.me/Visa Online Assistance)
Local Bank Transfer ( For Domestic Clients)
International Money Bank Transfer ( For Overseas & International Clients)
Global Western Union Money Transfer
For Bank Payment :Account details  of the recipient will be provided upon confirmation of getting the services of Visa Online Assistance,  for bank (local & international money transfer payment) OR global  money remit/ wire transfer. While for PayPal payment  we will be issuing an invoice first  to your e-mail.
A disclaimer: Visa Online Assistance does not arrange job offer nor entertain job inquires for abroad. as we are not a recruitment agency. Any information from the pages and posts on this website are personal knowledge and a combination of research & experience of the author/legal researcher for immigration  and its contributor who made the articles, it may not directly or constitute legal advice and does not guarantee the accuracy of the information from the time it was written. It is an absolute discretion of the visitors if they would use the information on their own risk.