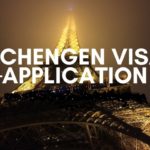 In some cases when a client had been refused to have an entry visa [Schengen Visa] to travel and stay temporarily in France or other Schengen Member States. The most convenient way for  proving  your genuine intention is to REAPPLY and rebut previous decision of the officer, although others may appeal in certain occasions whereby if the decision raised the concern of the application to question the range of scope of law or facts- or if they think the decision were wrong – according to the Code of Entry and their claim and evidences being provided first hand.
Reapplication to a refused Schengen Visa to France requires comprehensive review of the previous documents being submitted to the French Consulate Office to determine as to why the officer has arrived to declined/refused your Schengen Visa application, given  thus,  inspite of the checklist of requirements which could be found at the embassy's website – depending on which country you will submit or resubmit your refused Schengen Visa application.
The weight of proving that you are a genuine and bona fide applicant for Schengen visa rests with the applicant's claim and evidentiary documents in a credible level – this is in reference with the instructions and guideline of the visa policy. Similarly, this is what has had happened to our client from the Philippines, she had first a refusal to the U.K as [ tourist] and got the same refusal for her Schengen Visa in France.
She sought the assistance of Visa Online Assistance for her reapplication to a refused Schengen Visa in France, for a purpose of 'tourism', she had in fact completed all the relevant requirements listed as per checklist and even provide a concrete "itineraries and cover letter", though still the embassy had refused her Schengen Visa application on the basis of the following grounds:
The information submitted regarding the justification for the purpose and conditions of intended stay was not reliable
Your intention to leave the territory of the member states before the expiry of your visa could not be ascertained
When we have had examine and review  her previous application, we  identified that it was due to inadvertence of supplying significant documents to prove her genuine intention that will bring the attention of the officer to consider her reapplication to be approved. We also provided her a 6 pages submission letter to points out the  'argument' which will highlight her local circumstances, previous travel and the  credibility of supporting documents in which we believe is material to her application for a Schengen Visa  application to be approved, though enough after resubmission we got her the approval of Schengen Visa in France. She was thankful and impressed how her application has turned to approval after REAPPLYING with the assistance of VISA ONLINE ASSISTANCE.
Contact Visa Online Assistance for your visa assistance in Europe or elsewhere as seen to our website, send us an e-mail at info@visaonlineassistance.com or visit http://www.visaonlineassistance.com our immigration analyst with nearly 10-years of working experience  will work closely to your  visa application or reapplication.
photo credit to: Jayce